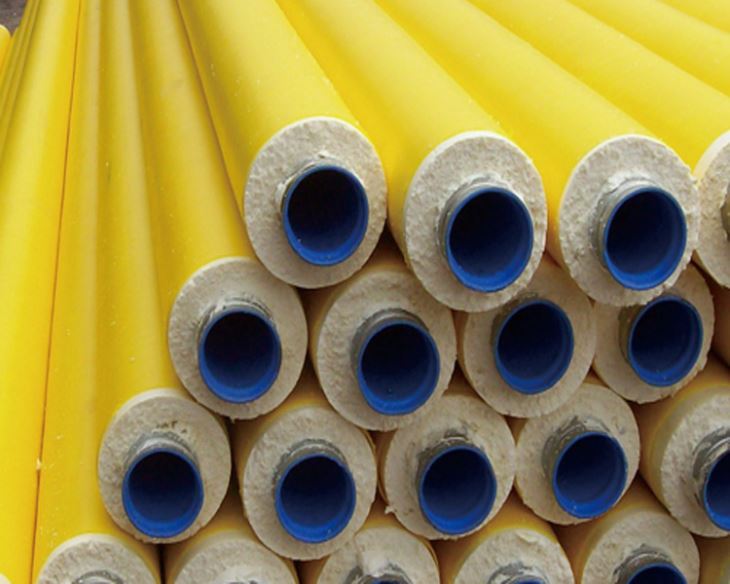 Add to Favorites
Share
Polyurethane Black Or Yellow Jacket Insulation Pipes
Payment

Origin

China Mainland

Minimum Order

1

Packing

Pieces
Product Detail
Polyurethane Black or Yellow Jacket Insulation Pipe

1.Structure: Polyurethane Insulation Pipes have three layers from inside to outside. The first layer is the working pipes. In accordance with the designs and requirements of the customers, working pipes can be seamless steel pipes, SSAW steel pipes and LSAW steel pipes. The surface of the pipes is firstly treated by sand-blasting, which can match the Sa2 degree of the standard GB8923-1988. The roughness of the surface can reach R=12.5µ. The second layer is polyurethane insulation. It is formed by filling the hollow between the pipe surface and the preservation layer with liquid polyurethane by high pressure foaming machine. The third layer is the polythene preserving layer. This black or yellow polythene pipe layer of certain thickness is premade. Its function is to protect the insulation layer from being damaged by outside forces and from corrosion or water.

2.Alarming system: In the insulation layer close to the pipe surface is buried alarming lines. Once seeking happens, the alarming lines will send signal to the inspecting tools, which then will siren and indicate the exact seeking location and its degree. With its help the inspector will be able to fix the leaking in time. This system guarantees the safe operation of the heating system.

3.Advantages:1) Strong anti-corrosion and water prevention capability. The project cost can be reduced by 10%-25%. 2)Low heat loss and saving energy. The heat loss rate is only 25% that of traditional materials. 3) Long service life. Correct installation and use can get a service life of 30-50 years. Beside the maintenance cost is extremely low. 4) Low field occupation, short working period, environment friendly.



3
YRS
Hebei Allland Steel Pipe Manufacturing Co.,Ltd
China
Favorites